Avery Brewing Co. To Release Rufus Corvus
Boulder, CO – After countless barrel evaluations, blending sessions and blind tastings spread over three months, the Avery Brewing Company is excited to announce the upcoming release of Rufus Corvus— a blended sour beer that is No. 19 in the Barrel-Aged Series.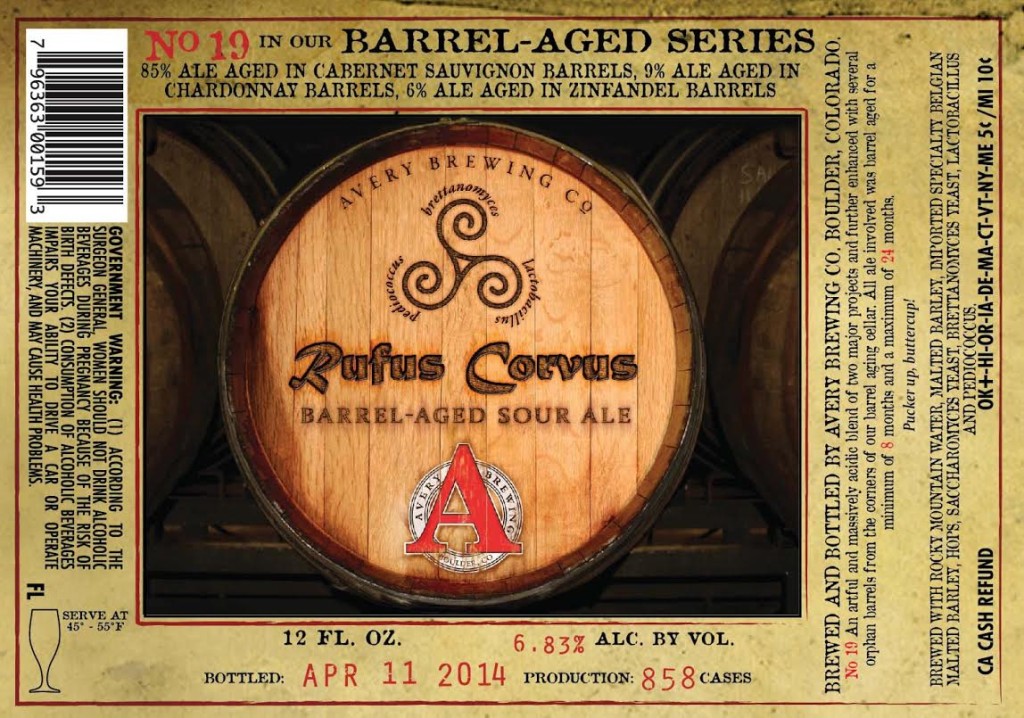 With 858 cases produced, Rufus Corvus is Avery's largest blended sour beer to date, combining 8 different beers from 40 oak barrels.
"While many of our barrel projects are single batches of beer from start to finish, this is a different monster," said Avery Chief Barrel Herder Andy Parker. "On these blended beers, we spend months tasting, re-tasting, and overtasting barrels with a single goal in mind: to combine multiple beers from a selection of barrels to come up with a final blend that is greater than the sum of its parts. Rufus Corvus features lactic acid, acetic acid, Brettanomyces influence, some red wine aroma, oak tannins, malt structure, and a lot of awesome."
Rufus Corvus started with a pair of projects: a 6% ABV red sour in fresh Cabernet barrels, code name Ginger, and a 6% ABV dark sour in fresh Cabernet barrels, code name Raven. While Ginger and Raven were solid beers individually, Parker assessed they were even better blended together. Ginger brought more red wine flavor and big oak tannins while the Raven brought a higher level of lactic acid and malt character. Seeking even more complexity in the beer, Parker and his crew went back to the Barrel-Aging Cellar for further tasting, making a list of dozens of "orphan" barrels to potentially blend into the Ginger/Raven combination. After three months, a series of six blind tastings, and countless barrel reevaluations, it was decided that just 14 of the barrels enhanced the project. These 14 were blended with the 26 barrels of Ginger and Raven, and resulted in a beer that the panelists in the blind tastings repeatedly and unanimously picked as exceptional.
Rufus Corvus is one of at least nine beers that will be released from Avery's barrel program this year, constituting about 1,500 bbls of barrel-aged beer by Avery in 2014, a ten-fold increase over last year.
The Avery Tap Room in Boulder, CO, will host the release party of Rufus Corvus Sunday April 27th, 2014, with bottle sales starting at 1pm. Bottles are 12oz. and will be sold as singles for $12 each. Fans will be able to buy up to 12 bottles and availability can only be guaranteed at the Avery Tap Room during the one day only release party until the beer runs out. The day's activities will start with brunch from 9-11:30am and the line party will start at 11am, featuring a cellar list of past Barrel-Aged releases as well as a draft list with rare beers and Tap Room exclusives.
www.averybrewing.com – @AveryBrewingCo – facebook