Anchor Brewing Releases Anchor IPA This Month
(San Francisco, CA) – Anchor Brewing Company announces the release of Anchor IPA; an adventurous new brew to join Anchor's core lineup of distinctive, hand-crafted brews.
"When we started thinking about Anchor IPA, we wanted to create a beer we would be proud to serve in our Taproom," said Mark Carpenter, Brewmaster at Anchor Brewing.  "Right now a lot of IPAs are so hop forward that your palate can only enjoy one because of the high bitterness. Our IPA will have a strong hop flavor so you know you're drinking an IPA. But, the combination of malts we're using are strong enough to hold up to the bitterness, allowing you to enjoy more than one. The unique selections of both traditional and modern hops we are using provide the backbone and flavor, plus an experimental hop adds to its pleasant fruity & floral aroma, the first thing you notice as you sip the beer."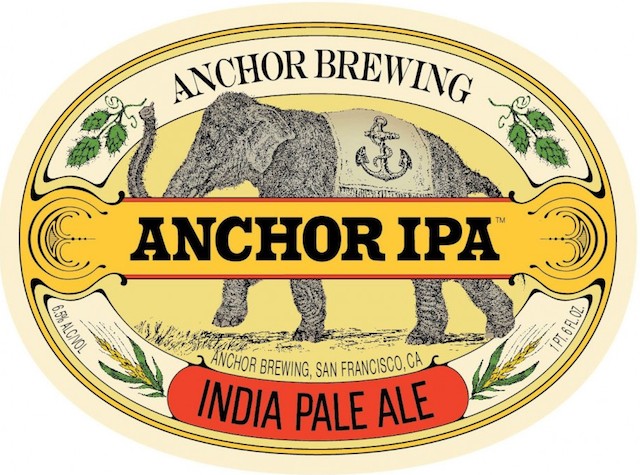 The California Gold Rush lured thousands west to "see the elephant," a 19th-century metaphor for the hopeful but risky pursuit of happiness, adventure, and fortune. As early as 1849, India Pale Ale—prepared by British brewers for export to India by adding dry hops to barrels of hoppy ale—was also heading west, from England around the Horn to San Francisco. Thirsty '49ers savored imported IPAs, but it wasn't until 1975 that Anchor, America's original craft brewery, pioneered the revival of dry-hopped handmade ales with the introduction of Anchor's Liberty Ale®, the first modern American IPA brewed after Prohibition. Now, that tradition fast-forwards to an adventurous new brew: Anchor IPA . Made with 2-row barley malt and fresh whole-cone hops, its bright amber color, distinctively complex aroma, spiky bitterness, malty depth, and clean finish unite to create a uniquely flavorful, memorable, and timeless IPA.
The elephant you see on Anchor IPA was hand-drawn by Anchor label artist, James Stitt.  The expression to "see the elephant" originates from a tale that predates the California Gold Rush.
There once lived a farmer who had heard of elephants but had never seen one. He longed for the day when he might catch a glimpse of this rare, exotic creature. When the circus came to town, he loaded his wagon with fresh produce and headed to the market. On the way, just as he'd hoped, he came across the circus parade, nobly led by an enormous elephant. The farmer was ecstatic, but his horses were terrified. They reared and bucked, overturning his wagon and scattering its precious contents in the road. "I don't give a hoot," exclaimed the farmer. "I have seen the elephant!"
The elephant became the universal symbol of the Gold Rush, as evidenced by the journals, letters, and sketchbooks of the forty-niners. Whether or not they struck it rich in the diggings, those plucky pioneers would forever treasure their California adventure as the defining moment of their lives.
To kick-off San Francisco Beer Week (February 7-16), Anchor IPA will initially be released in California throughout the month of February followed by select US market releases from March thru May. Anchor IPA will be available year-round in 6-packs, 12-packs, 22-ounce bottles, and on draught in select restaurants and bars as well as the Anchor Brewing Taproom in San Francisco.
Anchor has partnered with PAWS: Performing Animal Welfare Society (www.pawsweb.org), to feature their rescued Asian Elephants in the making of this video.  We are proud to work alongside PAWS and support the nonprofit organization by adopting their five Asian Elephants: Prince, Annie, Gypsy, Nicholas & Wanda, living out their lives in peace at PAWS' 2,300 acre sanctuary dubbed, ARK 2000.
Note: No human-elephant contact was permitted and the elephant's cooperation and accommodation of the film crew is on "Elephant" terms.  The elephants were not asked to perform specific tasks at the request of the film team. The producer and film crew adapted to the conditions and rules specified by PAWS, its employees and animal caretakers both before and during any photography/filming.
About Anchor Brewing Company
Anchor Brewing Company's roots date back to the California gold rush making it one of America's oldest breweries. Its Anchor Steam® Beer is San Francisco's original since 1896. In 1965, Fritz Maytag acquired and revived the struggling brewery at a time when mass production of beer dominated and seemed unstoppable. Maytag started a revolution in beer that originated today's craft beer movement. An undisputed icon, Anchor is America's first craft brewery where beers are handmade in our traditional copper brewhouse from an all-malt mash. At Anchor, we practice the time-honored art of classical brewing, employing state-of-the-art methods to ensure that our beers are always pure and fresh. We know of no brewery in the world that matches our efforts to combine traditional, natural brewing with such carefully applied, modern methods of sanitation, finishing, packaging and transporting.  See what we are brewing today at www.anchorbrewing.com.