American Craft Beer Week – Fort Collins Craft Brewers Collaborate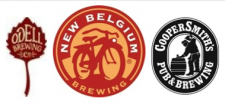 New Belgium, Coopersmith's and Odell Brewing create "Collaboration" Kriek as part of American Craft Beer Week
(FORT COLLINS, CO – May 14, 2010) In honor of American Craft Beer Week, May 17-23, Fort Collins craft brewers Odell Brewing, Coopersmiths and New Belgium Brewing will release "Collaboration" Kriek, a Kriek or cherry beer brewed at all three facilities. It is the first time the three local brewers have collaborated on a single beer. "Collaboration" Kriek is a blend of Odell Saboteur (15%), New Belgium La Folie (45%) and Coopersmith's Kriek (40%).

"The Saboteur's earthy maltiness and subtle Brett character combined with the intense sour cherry from Coopersmith's Kriek are complimented by a spicy finish from the La Folie," said Coopersmith's Head Brewer, Dwight Hall. "The blend became a beer of its own, yet you can still distinctly taste each beer."
Brewers from multiple breweries working together is very much in the spirit of American Craft Beer Week (http://www.americancraftbeerweek.org/), the Mother of All Beer Weeks, as designated by the Brewer's Association. The weeklong series of events celebrates small and independent craft brewers and highlights all that America loves about the growing segment of craft beer.
"Craft brewers love to get together to swap ideas and taste each other's creations," said New Belgium Marketing Director, Greg Owsley. "American Craft Beer Week is a great opportunity to celebrate that and to go one step further by giving craft drinkers something new and exciting to try."
Only three and a half barrels of Collaboration Kriek exist in the entire universe. The beer will begin pouring May 17th at Coopersmiths and Odell and May 18th at New Belgium Brewing.
About the origin beers:
Odell SABOTEUR – Our brewer's created an unpretentious, yet sophisticated brown ale. Then they plotted, and dosed this full-bodied ale with brettanomyces, the ultimate adversary of wineries. Embracing this vintner's nemesis resulted in a complex and wonderfully drinkable beer. Intense earthy undertones, and notes of vanilla and pineapple come together with a sour silhouette. Aged in American oak barrels.
New Belgium's LA FOLIE sour brown is our wood conditioned ale, resting in French Oak barrels between one and three years before being bottled. Our La Folie emulates the spontaneous fermentation beers of Flanders, Belgium with sour apple notes, a dry effervescence and earthy undertones.
Coopersmith's Kriek is a Belgian style beer that is naturally fermented with wild yeast and cherries in oak barrels. The wild yeast contributes a very tart spicy character. The wood and cherries add depth and piquancy to the flavor and aroma. This unique beer took over two years to make! 7.4% ABV