American Craft Beer Week 2013 Toasts the Red, White and Brew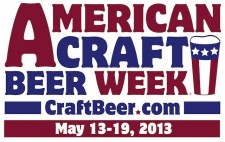 Boulder, CO • April 25, 2013—From May 13-19, craft beer connoisseurs and beginners alike will come together for the eighth annual celebration of American Craft Beer Week (ACBW). With the tagline "Big Week, Small Breweries," ACBW is an opportunity to toast the more than 2,400 small and independent American craft brewers who continue to make the U.S. the world's most diverse brewing destination. Once again, ACBW celebrations are expected to be held across all 50 states.
"The popularity of American Craft Beer Week is indicative of the craft beer renaissance that continues to captivate the U.S.," said Julia Herz, publisher of CraftBeer.com and craft beer program director at the Brewers Association. "This week is about uniting for a common cause: support and celebration of our nation's small and independent brewers and the millions of beer lovers who have helped evolve an industry and put the U.S. on the brewing map."
New for 2013 is the American Craft Beer Week Coast to Coast Toast. For the first time ever, ACBW will be commemorated by a simultaneous toast. At 8:00 p.m. ET/5:00 p.m. PT on Thursday, May 16, small brewers and craft beer lovers nationwide will raise a glass of their favorite craft brewed beer to toast ACBW and the delicious beer that it celebrates. To find a toast location near you, visit the official American Craft Beer Week events page, hosted by CraftBeer.com.
Untappd, the mobile-based social network that connects breweries with craft beer lovers, is also offering an American Craft Beer Week Badge for users who check-in during ACBW events.
Additionally, craft beer fans from across the country can sign the American Craft Beer Week Manifesto, pledging their support to craft beer and their love for "the artisans who approach their craft with originality, dedication and passion." From tap takeovers and tasting tours to food pairings and festivals, ACBW will be celebrated in many ways across the U.S. To find a local celebration, event or promotion, visit the above-mentioned ACBW events page.  A selection of scheduled 2013 celebrations includes:
American Craft Beer Week National Toast
Coast to Coast Toast to Craft Beer w/Stone Brewing Co.; Westerly, RI
ACBW Coast to Coast Toast at Iron Horse Taproom; Washington, D.C.
American Craft Beer Week Toast at Howells & Hood; Chicago, IL
Coast to Coast Toast to Boulder's Craft Beer Phenomenon; Boulder, CO
Craft Breweries
Gritty McDuff's Brewpub 25th Anniversary Celebration; Portland, ME
Mayflower Brewing Company 4th Annual Open House; Plymouth, MA
Anaheim Brewery Founder's Day; Anaheim, CA
5th Annual Short's to Short's Paddle; Bellaire, MI
Meet the Brewers of the San Francisco Brewers Guild; San Francisco, CA
Rahr & Sons Summertime Wheat Glass Night; Dallas, TX
Right Brain Brewery – ACBW Firkin' Friday; Traverse City, MI
Craft Beer Festivals
3rd Annual Ameri-CAN Canned Craft Beer Festival; Scottsdale, AZ
HopFest Kansas City 2013; Kansas City, MO
Brewers Association of MD "Maryland Craft Beer Festival"; Frederick, MD
2013 Wort Transformation Awards Ceremony; Papillion, NE
Third Annual Brews with Attitude Craft Beer Festival; Tampa, FL
Third EVER Mother's Day Festival; Springfield, MO
Wheatstock; Lincoln Park, MI
Food and Beer Events
American Craft Beer Week – Spokane Style!; Spokane, WA
4 Course Dinner and Pairing Featuring Uinta Brewing Co.; Salt Lake City, UT
Elevation Beer Co. – Chef vs. Chef; Louisville, CO
Knee Deep Beer Dinner at 775 Gastropub; Reno, NV
Beer & Cheese Tasting with Teton Valley Creamery and 460 Bread; Victor, ID
Craft Beer Tastings and Tours
Brewery Rickoli American Craft Beer Week Releases; Wheat Ridge, CO
Crow Peak Night at the Ale House; Rapid City, SD
Old Chicago Tap Takeover featuring Odell Brewing Co.; All Colorado Locations
Roughtail Oaked Imperial Black Rye Ale Release at Tapwerks; Oklahoma City, OK
Shmaltz Brewing Media Ribbon Cutting Ceremony; Clifton Park, NY
Portsmouth Brewery – Brewing with Botanicals; Portsmouth, NH
State and Regional Beer Weeks Also Happening During ACBW
Chicago Craft Beer Week
Frederick Beer Week (MD)
Lexington Craft Beer Week (KY)
Santa Ynez Valley Beer Month (CA)
Find an expanded list of U.S. beer weeks and join the conversation on Twitter with #ACBW.
# # #
About the Brewers Association
The Brewers Association is the not-for-profit trade association dedicated to small and independent American brewers, their craft beers and the community of brewing enthusiasts. The Brewers Association (BA) represents more than 70 percent of the brewing industry, and its members make more than 99 percent of the beer brewed in the U.S. The BA organizes events including the World Beer Cup®, Great American Beer Festival®, Craft Brewers Conference & BrewExpo America®, SAVOR℠: An American Craft Beer & Food Experience and American Craft Beer Week®. The BA publishes The New Brewer magazine and its Brewers Publications division is the largest publisher of contemporary and relevant brewing literature for today's craft brewers and homebrewers.
Beer lovers are invited to learn more about the dynamic world of craft beer at CraftBeer.com and about homebrewing via the BA's American Homebrewers Association. Follow us on Twitter.
The Brewers Association is an equal opportunity employer and does not discriminate on the basis of race, color, national origin, gender, religion, age, disability, political beliefs, sexual orientation, or marital/familial status. The BA complies with provisions of Executive Order 11246 and the rules, regulations, and relevant orders of the Secretary of Labor.