Alpine Considering Killing All Exponential Hoppiness Packaging + Reaction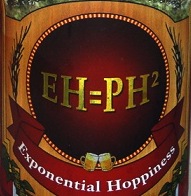 Alpine Beer Co's Pat just released a very angry message in their newsletter. Read his words, as well as comments from us. frownyface.bmp
You have seen your very last growler of "Exponential Hoppiness" ever to be dispensed.

Since I previously stated if I ever saw a growler of "Exponential Hoppiness" for sale on ebay there would never be another growler sold again. Don't blame me, but you can see who to blame HERE. As for bottles of "Expo" on ebay, I'm seriously considering never bottling it again. This is not just a personal issue, it's illegal. The fact that people drove down from LA to make a quick buck and denying the locals the chance to buy some is also just plain wrong.

So, you can see the timing of the releases listed above. The first two beers were released last week, the next comes out today and the last one comes out tomorrow. That is the most advanced notice you ever receive. Our little operation is focused on supplying the local market with fine beer. If you live in the area you can now get first crack at our releases before they can drive in from points unknown. That's the best I can do for you, my loyal locals.
From Dan – I know this isn't the popular response, but my gut is to say "what can ya do?" Penalize the good ones because of a few bad eggs? Besides Alpine being mad, they have now just upped the hype value of this beer to the moon.  While I don't like it, Pat might be right. Keep it as a pub attraction, which will in turn reward the locals. But who's to say someone 5 miles down the road didn't participate in a black/gray market transaction?