Almanac Beer Company – Farmer's Reserve Strawberry & Valencia Gold Debut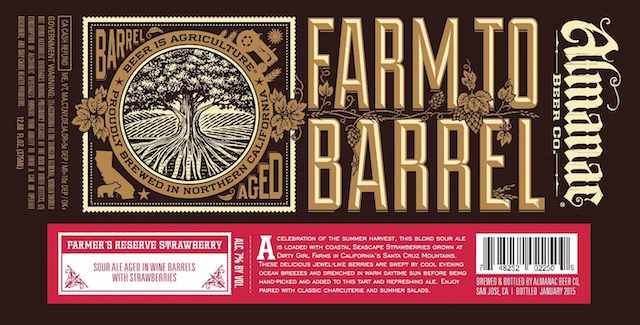 (San Francisco,CA) – In the summer of 2014 we added California's juiciest strawberries to our sour blonde ale aging in wine casks—and the barrels are saying, "we're ready!" Introducing Farmer's Reserve Strawberry! A celebration of the summer harvest, this sour blonde ale is loaded with coastal Seascape Strawberries grown at Dirty Girl Farms in California's Santa Cruz Mountains. These delicious berries are swept by cool evening ocean breezes and drenched in warm daytime sun before being hand-picked and added to this tart and refreshing ale. Enjoy paired with classic charcuterie and summer salads.
Coming to a shelf near you: Valencia Gold 22oz bottles! Featuring a stunning bottle design by DKNG Studios, Valencia Gold is an aromatic Belgian-style ale that celebrates the vibrant and pioneering history of San Francisco's sunny Mission District. This imperial ale is brewed with fragrant orange blossom honey and fresh Valencia Oranges from California's Central Valley and dry-hopped with tangerine-scented Mandarina Bavaria hops. Pour this pure California sunshine into your favorite tulip glass and enjoy with fresh Dungeness crab or citrus salads.