AleSmith Brewing – Summer YuleSmith, New Old Ale, Vietnamese Speedway + More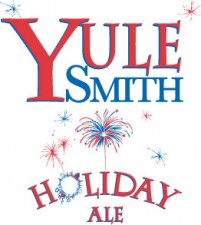 Some great beer news from AleSmith Brewing regarding the return of Summer Yulesmith, the addition of Old Ale ,the pending release of Vietnamese Speedway Stout and more.  Cheers!
Summer YuleSmith
Every year we anxiously await the warmer months to unleash this Double IPA, the summer edition of our YuleSmith seasonals. The flavor imparts orange, grapefruit, and tangerine hop notes with earthy, spicy, and resinous pine undertones.  A sturdy malt backbone balances the profound hop bitterness to create a refreshingly assertive and vibrant beer that offers an unapologetically bold expression of fresh American hops.
Summer YuleSmith is packaged in a red and blue 22oz bottle and is available RIGHT NOW in the tasting room (bottles, growlers, tasters).  Distribution to AleSmith markets rolled out the first week of June.  We've also done a limited run of Summer YuleSmith shirts that are now for sale in the tasting room.  Get in the summer spirit with Summer YuleSmith!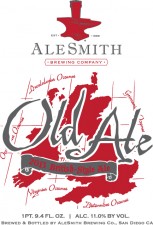 Old Ale FKA Decadence 2005 FKA Decadence 2010
Our incredibly popular Old Ale is about to become a yearly seasonal release.  To the right is your first look at the brand new AleSmith Old Ale bottle label.
Originally brewed in 2005 as the first in our annual Decadence series, this multiple award winning British Style Old Ale has become so popular that we've decided to brew it yearly.
Look for bottles to be released later this summer.  As always, we'll announce the official release via the newsletter and our social media (Facebook    and Twitter).
The rumors are definitely true!  To the right is your first look at the brand new 750mL Vietnamese Speedway Stout bottle design.
We aren't quite ready to announce the release date of these bottles, but we've submitted for label approval and we'll be announcing the bottle sales in the coming months.
Stay tuned for the release announcement and party we'll be throwing to commemorate this special release.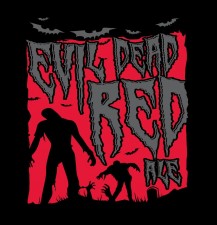 Evil Dead Red in Bottles
As a follow up to the first bottling run ever of My Bloody Valentine earlier this year, we are thrilled to announce that we will be bottling Evil Dead Red for the first time EVER!  To the left is the first peek of the brand new Evil Dead Red logo.  The release window won't change (start looking for the beer in late September) but it'll now see distribution to AleSmith markets and bottles will be available in addition to draft.