AleSmith Brewing – Release Details for BA Decadence '08 and BA Speedway '09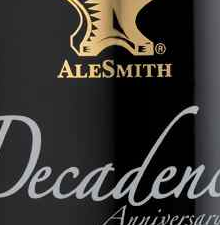 AleSmith Brewing of San Diego, CA announces the release details of their treasured Barrel Aged Speedway Stout as well as the anticipated release of Barrel Aged Decadence 2008.
The long-awaited moment will soon be upon us: the newest batch of AleSmith barrel-aged beer is set for release this month on Wednesday, June 15th.
This edition of BA Speedway, barreled in '09, is as good as ever. Excellent sweet boozey notes with accents of oak, vanilla, and pleasant oxidative aspects alongside the customary coffee and bitter chocolate roasted malt characteristics.
This has proved to be a very interesting edition of BA Decadence. The 2008 batch, an English-style barleywine aged in bourbon barrels, took on a pleasant sourness. Such quirks of nature can provide intriguing drinking  experiences, like the many excellent wild ales being produced today. We think you'll enjoy this delightfully unconventional offering.
There will be a purchase limit of (4) four bottles of '09 Speedway Stout per person, and (1) one bottle of '08 Decadence per person, pending turnout. We want to make sure that everyone has a great time and gets a chance to get some of this highly-anticipated beer, so we reserve the right to change the limit as the sale progresses. We will begin handing out numbers at 8:30 am and the bottle sale will begin at 12:00pm, allowing you time to leave and return if need be.
Thanks in advance for keeping the atmosphere jolly and convivial in the true spirit of craft beer and for helping to keep our parking lot clean during the festivities. We want to make sure that we can keep having events like these for many batches to come. Cheers!