AleSmith Bottles Get A Facelift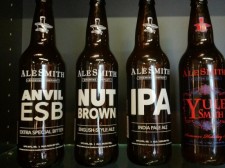 San Diego's AleSmith Brewing has been steadily upgrading their infrastructure since last year. They've gotten a new bottling line to do force carbonated bottling, they've remodeled their tasting room, they are pumping out more Speedway, and have even tweaked their own logo.  While they are still working on getting bottle dates on to their magical yet delicate IPA, they have given their bottles a facelift.  From their latest newsletter:
In the coming weeks, you'll start to notice the new AleSmith bottles hitting the shelves.  The bottles have the updated AleSmith logo (seen above), AleSmith bottle caps and are in brand new designed case boxes! The roll out will be happening over the next few months.
 So make sure to let your local bottle shop or retailer you know you've spotted some old AleSmith bottles two months from now, we all have proof! Cheers.