Alaskan To Release Imperial IPA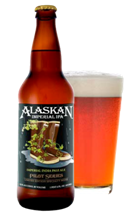 Juneau, Alaska (February 28, 2011) – Alaskan Brewing is rounding out its inaugural year of limited edition Pilot Series releases with its first-ever bottled release of Alaskan Imperial IPA.
This big and hoppy brew releases on draft and in 22 ounce bottles in early March in the 10 western states.
First brewed as part of Alaskan's Rough Draft series of experimental draft only brews, this imperial IPA is better known to draft fans in Alaska as "Alaskan XTRATUF® IPA."  The brew owes its original namesake to the iconic brown, neoprene XTRATUF boots, which are a springtime footwear staple everywhere from fishing boats to formal affairs in coastal Alaska and in brewhouses across the country. Alaskan Imperial IPA features the robust flavors of Pacific Northwest hops over a sturdy malt body, and as the name suggests, the same "XTRATUF" qualities as these "Alaska Sneakers."
"It's a continuation of our focus on balance and complexity," says production assistant Brian Ross of Alaskan's new Imperial IPA release. "We didn't want to just focus on one hop varietal. The balance between the three big flavors – northwest hops, malt and alcohol – is almost seductive, making it a surprisingly fresh and drinkable brew."
Alaskan Imperial IPA is richly gold in color with the aroma of tangerine, lychee and other citrus over the toasted sweetness of crystal malt.  The deep green flavors of Chinook and Amarillo hops partner with the fresh bitterness of Centennials for a complex hop profile.
Other members of the specialty Pilot Series include Alaskan's Double Black IPA, award-winning Barley Wine and Raspberry Wheat, which will make another appearance this summer. Alaskan Raspberry Wheat will be followed by Alaskan's to-be-announced anniversary ale in celebration of the brewery's 25 years of brewing in Alaska.
###
About Alaskan Brewing Co.
Alaskan Brewing Co. has been making award-winning beer in Juneau, Alaska, since 1986. The Alaskan Brew Crew bottles the unique character of the Last Frontier with historic recipes, local ingredients and glacier-fed water. Alaskan Brewing handcrafts Amber, Pale, White, IPA, Stout, Smoked Porter, Winter Ale, Summer Ale and a variety of limited edition beers in the Alaskan Pilot Series. Visit www.alaskanbeer.com.
About XTRATUF Boots
Since the 1960s, XTRATUF has delivered performance and quality using its 100 percent waterproof construction. XTRATUF's triple-dipped coating of neoprene creates a seamless package that is impervious to many organic & inorganic acids, chemicals and contaminants. Initially developed for fisherman on the West Coast, this boot is now widely used in many corners of the United States and Canada due to its durability and comfort. For more information about XTRATUF boots visit www.xtratufboots.com, or contact Doug Bugalski at 314-746-1941, or [email protected]