Abita Introduces Big Beers In Big Bottles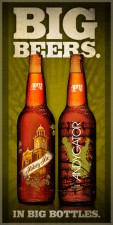 Big Beers in Big Bottles Debuts
The big day has arrived; it's the debut of Abita's new Big Beers in Big Bottles. "The bottles are bigger than our other Abita brews, a full 22 ounces," said David Blossman, Abita Brewing Company President. "These big 22 ounce bottles are the perfect size to serve with a meal or share with a friend," continued Blossman. The beer inside is big too; both Andygator and new Abbey Ale have an alcohol by volume (ABV) content of 8%.
Abita Andygator
Andygator is a creature of the swamp, a unique high-gravity brew made with pale malt, German lager yeast and German Perle hops. Unlike other high-gravity brews, Andygator is fermented to a dry finish with a slightly sweet flavor and subtle fruit aroma. Reaching alcohol strength of 8% by volume, it is a Helles Dopplebock. Andygator has been enjoyed as a draft brew and now enthusiastic Abita Andygator fans welcome its distribution in the new Big Bottles.
Abita Abbey Ale
Abbey Ale is a new Abita brew that honors the ancient tradition of monks who perfected the art of brewing beer to support the monastery and the brothers with their form of "liquid bread". Abita offers up their support and thanks them with a 25-cent donation to St. Joseph's Abbey in Covington, Louisiana with every bottle of this heavenly brew. The Abita Brewing Company previously raised $550,000 for hurricane storm relief with their Restoration Pale Ale after back-to-back storms devastated Louisiana.
Abbey Ale is dark amber in color, with an aroma of caramel, fruits and cloves. It is a Dubble or double ale with an 8% ABV. Abita Abbey Ale is a malty brew, top-fermented and bottle aged to rapturous perfection.
A New Look For Abita's Newest Brews
The larger 22 ounce bottles offer an oversized canvas for creative packaging design. Both new brews feature a "hand-painted" look designed by Innovative Advertising and applied to the bottle by Vitro Packaging's Applied Ceramic Labeling System. Both Innovative and Vitro are headquartered in Covington, Louisiana.
Abita Beer Is Louisiana True
The Abita Brewing Company was founded in Abita Springs, Louisiana in 1986 and is the oldest and largest craft brewer in the southeast. Abita is the 30th largest commercial brewer by production volume in the nation and the 17th largest craft brewer in the United States. Sales for the company should exceed 85,000 barrels and $16.5 million this year.