A Look At SanTan Brewing's Latest Expansion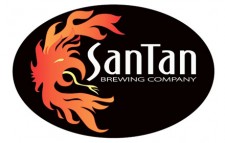 Our Arizona Intern Jesse took a trip to SanTan Brewing's new facility in Chandler, AZ. If you are interested in becoming an intern at The Full Pint, please follow this link. Cheers
San Tan Brewing Company is yet another Arizona craft brewery to step up and make the move toward becoming a major player in the American craft beer scene. Established in Chandler, Ariz. in 2007 by owner and brewmaster Anthony Canecchia, the brewery has enjoyed considerable growth in the years since.
They began canning and distributing in 2009, which undoubtably increased their visibility and popularity. Now, established as a staple of Arizona breweries, San Tan is already underway with the next step to brewing glory: the opening of a brand new production facility.
Their original location in downtown Chandler produces 15,000 barrels annually, and is bursting at the seems with demand. "The downtown [location] is not designed to be brewing as much beer as its brewing and the boys are all working really hard. I can't emphasize how hard they're working and I can't thank them enough for doing an amazing job," Canecchia said.
With high demand comes increased supply, and thus the inception of the new 35,000 square feet San Tan facility, located just two miles away from the original location in Chandler. The new brewing space, expected to brew its first batch in May, is a major step up in volume. "The initial tanks we put in [the new brewery] will give a capacity of about 40,000 barrels [annually], and then we will just keep popping tanks in. Hopefully Arizonans stay thirsty," Canecchia said with a laugh. The brewery will double their staff initially, and add on more brewing staff as production increases.
With all brand new equipment to tinker with and the added comfort of well over tripling their production, San Tan is due to see a massive growth in not only quality but quantity as well. The existing facility will become a place for small batch experimentation resulting in intriguing and unique brews while the new location will focus on production, according to Canecchia.
"We're going to concentrate on making quality, quality beer [at the new location]. We're building a lab…we're putting a lot of importance on create quality control systems," he said, noting the fact that they've been interviewing quality control experts in varying fields.
He also expressed an interest in starting a barrel program with a specific focus in the type of wood used. "We're really excited about using fresh white American oak," he said. Canecchia cited Great Divide Brewing Company from Colorado as an inspiration, saying their Rumble Oak Aged IPA is a personal favorite of his and calling the 18th Anniversary Wood Aged Double IPA "extra delicious." Aside from white American oak, there are other types of barrels that could become home to a San Tan beer. "We like rum… we'd probably use rum too," Canecchia said with a palpable yearning.
Though the production is exploding, don't expect to see much change in San Tan's retail lineup. Cenecchia commented on whether or not their offerings would change.
"I think we have a pretty solid lineup, it offers a wide enough variety. The four core beers that we do offer [come with] a pretty broad range of flavors, from balanced to bitter to fruity to sweet. Then I think the seasonals… they back up our mission statement, which is craft beer craft food conversation. They really identify us with crafting that experience, trying to be very food centric. I mean, we love to eat and drink and bullshit, thats what we like to do," said Canecchia with a smile.
However, he did express interest in bottle conditioning beers, so a vessel change could be in San Tan's future. "If we were to bottle anything, we would make sure its a bottle conditioned beer so that it had a better shelf life, more stability," he said.
The new location is massive, and honestly is reminiscent of the feeling of touring a famous production brewery's space, in terms of size. It is an obvious major step-up. Enormous amounts of beer can and will be brewed there, and it will be exciting to watch the brewery's growth.
Follow SanTan on Twitter
Follow SanTan on Facebook