21st Amendment Releases Lower De Boom Barleywine in 8.4 oz Can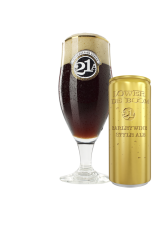 February 12, 2013 – San Francisco, CA – As the story goes, it is 1859 and Shaun and Nico have just arrived in San Francisco for the gold rush. Ten years late. Soon they find themselves in a dinghy in the middle of the Bay thanks to a forged treasure map given to them by scheming shop owner Cornelius De Boom. At the bottom of the bay they discover a treasure chest of rare and perfectly preserved beer. With this "liquid gold" they become wealthy beer barons, buy out De Boom Supply, and unceremoniously show Cornelius the back door. Today, if anyone gives them trouble, Shaun and Nico exchange looks across the bar and say "Lower De Boom."
Honoring tradition, but adding its signature creative twist, 21st Amendment Brewery today announced the release of Lower De Boom Barleywine, a powerfully balanced American-Style barleywine packed with citrusy hops. Co-founders Shaun O'Sullivan and Nico Freccia said they believe this is the first American craft beer ever to be packaged in an 8.4 ounce can, the perfect size for the traditional barleywine "nip."
Notes Brewmaster O'Sullivan, "Historically, barleywines, with their high alcohol, were brewed for their winter warmer quality. The huge grain bill, intense hops and long conditioning time make this beer perfect for savoring from a snifter next to a roaring fire. Enjoy one now and lay another can down as this beer will age quite nicely as the hops pull back and the malt and complex flavors meld together."
Freccia adds, "When they were first brewed, barleywines were almost exclusively sold in small bottles and we wanted to recapture that tradition in a new way, with a new can. Plus, at 11.5% alcohol, any larger a serving and you might feel like the boom has been lowered on you!"
Cornelius De Boom figures prominently into the story of both 21st Amendment and its new beer. De Boom was a Belgian-born ship owner, who actually made it to San Francisco in time for the gold rush in 1848. De Boom Street, named for him, is the alley which runs alongside 21st Amendment Brewery. The brewery's De Boom Street entrance is often referred to as "lower De Boom" by brewery employees, and the name is a fitting inspiration for the new brew.
Lower De Boom is chestnut brown in the glass with complex notes of toffee malt, vanilla, burnt bread pudding and piney hops with a slight oak flavor. It is the latest installment in 21st Amendment Brewery's Insurrection Series, a limited edition, once-in-awhile 4-pack release of a very special beer that rises up in revolt against common notions of what canned beer can be. It will be available in stores and on draft in bars February-March in all seventeen of 21st Amendment's distribution territories, including CA, OR, WA, AK, ID, MN, OH, MA, NY, NJ, DC, MD, DE, PA, VA, GA and NC. For up to date availability, events and promotions, visit 21A's website at www.21st-Amendment.com.
About 21st Amendment Brewery
Hey, we're Nico & Shaun. We live for great beer. When we opened the 21st Amendment Brewpub in San Francisco in 2000, we vowed to do things differently. To us, the 21st Amendment means much more than just an end to Prohibition. It means the right to brew beer, the freedom to be innovative, and the obligation to have fun.