21st Amendment Fireside Chat Returns for The Fall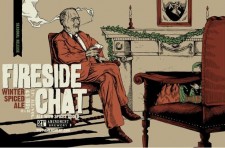 October 8, 2012 – San Francisco, CA – President Franklin Delano Roosevelt is finishing one of his comforting "Fireside Chats" to a worried nation….and this one is about beer. A warming, winter spiced ale that will lift the nation's spirits and make every holiday event special. And F.D.R. better hurry. There's a poker game going on in the Oval office and Santa Claus is getting the pants beaten off of him….literally. To see this year's Fireside Chat movie and find out what happens next, follow the link: http://youtu.be/BIgoW_pxhD0

21st Amendment's fall seasonal beer, Fireside Chat, is a subtle twist on the traditional seasonal brew.  We begin with a rich, dark ruby brown English-style ale and then improvise with spices and cocoa nibs until we know we have a beer worth sharing with the nation. During Halloween, Thanksgiving, Christmas and New Year's, Fireside Chat will brighten the faces of those who enjoy it, near the hearth or at the table. Its subtle blend of spices balances the malt flavor of the 7.9% alcohol ale and will make this a foodie's favorite, as it pairs perfectly with holiday meals.

"It's brewed to be a beer to share and to celebrate the warmth, aromas and flavors of the season," says co-founder and Brewmaster Shaun O'Sullivan, who personally selects a special blend of spices for the beer each year, based on the moment's inspiration.

Fireside Chat hearkens back to the Golden Age of radio when the Great Depression held the country in a pincer grip, and people longed for better times. President Franklin Delano Roosevelt's fireside chats, which often began with the words, "Good evening, friends," were hugely popular and his message was one of reassurance and hope.

In the tradition of the holidays, Fireside Chat is available October 15 through December in cans and on draft at bars and stores in all seventeen of 21st Amendment's current distribution territories which include CA, OR, WA, AK, ID, MN, OH, MA, NY, NJ, DC, MD, DE, PA, VA, GA and NC. For up to date availability, events and promotions, visit 21A's website at www.21st-Amendment.com.
About 21st Amendment Brewery
Hey, we're Nico & Shaun. We live for great beer. When we opened the 21st Amendment Brewpub in San Francisco in 2000, we vowed to do things differently. To us, the 21st Amendment means much more than just an end to Prohibition. It means the right to brew beer, the freedom to be innovative, and the obligation to have fun.