2013 U.S. Open Beer Championship – June 14th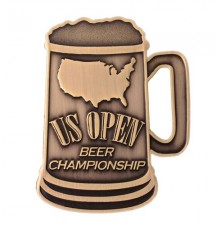 Atlanta, GA – The entry date for the 2013 United States Open Beer Championship will be June 14, 2013 with the winners announced on July 4, 2013. The U.S. Open is the only brewery competition to include professional breweries and award-winning home brewers. Last year, the entrants included more than 1600 beers in over 60 different categories.
In 2012, Sweetwater Brewing of Atlanta, GA was awarded Grand National Champion, winning three gold, three silver and a bronze medal. Boston Beer Company, makers of Samuel Adams, won second and the 2011's overall winner, Deschutes Brewery of Bend, Oregon won third.
Last year, a group of homebrewers won a gold medal in the barley wine style. This group consisted of Michael Habrat, Chris Bartik, Brett Goldstock, and Suzy Pessutti of San Diego, CA. Other homebrewers who took home medals at the U.S. Open included silver medalist Kent Shultz for his alt style beer and bronze medalist David Motter for his ESB.
Call for Entries: The deadline for entries for the United States Open Beer Championship will be June 14th. Winners will be announced July 4th. Each brewery may enter a maximum of 10 beers. In order to help small brewers in these tough economic times, each brewery will be allowed to enter 2 beers with no entry fee. If a brewery wishes to enter more than 2 beers, there will be a $50 entry fee per beer. A brewery must submit a minimum of 5 beers to be considered one of the Top Ten Breweries. Entry Forms and Rules can be found on the on the competition website under registration.
Over 60 categories will be judged. Winners will receive a medal in the shape of a beer stein for 1st, 2nd and 3rd place. Beers placing in the top 10 of each category and top 10 breweries overall will be featured in on BeerInfo.com. Along with the medals awarded, a Grand National Champion accolade will be awarded based on a point system for beers (5 minimum) entered in the competition.
Registration Form Link
Categories Links
2012 Winners Link