2013 U.S. Open Beer Championship Announcements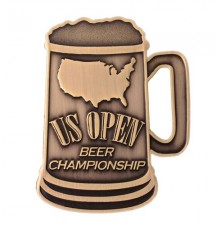 The U.S. Open is proud to announce that The Beer Connoisseur magazine will return as sponsor of this year's competition. The Beer Connoisseur is the leading consumer educator of the beer industry for the novice and connoisseur. It quenches every aspect of the beer lover's thirst for knowledge, style and sophistication. Besides sponsoring the U.S. Open, each brewer will get a free annual digital subscription to The Beer Connoisseur magazine.
Root Beer Category 
After last year's success, the U.S. Open will keep the non alcoholic category, Root Beer. Breweries all over the United States have made root beer since prohibition, and today, dozens of craft breweries have been producing gourmet root beer. There will be no entry fee for the Root Beer Category and the entry will not count in the brewery's limit of 10 beers.
Ice Packs
The U.S. Open Beer Championship receives hundreds of ice packs when beer is delivered. Previously, we donated these ice packs to local schools. This year, local youth soccer leagues will receive these ice packs. Not only does the U.S. Open donate ice packs, but we also donate beverages to some of the great coaches who sometimes need to unwind after a long season.
Call for Entries
The deadline for entries for the United States Open Beer Championship will be June 14th. Winners will be announced July 4th. Each brewery may enter a maximum of 10 beers. In order to help small brewers in these tough economic times, each brewery will be allowed to enter 2 beers with no entry fee. If a brewery wishes to enter more than 2 beers, there will be a $50 entry fee per beer. A brewery must submit a minimum of 5 beers to be considered one of the Top Ten Breweries. Entry Forms and Rules can be found on the on the competition website under registration .
Over 60 categories will be judged. Winners will receive a medal in the shape of a beer stein for 1st, 2nd and 3rd place. Beers placing in the top 10 of each category and the top 10 breweries overall will be featured on BeerInfo.com. Along with the medals awarded, a Grand National Champion accolade will be awarded based on a point system for beers (5 minimum) entered in the competition.