SweetWater Brewing Co's Dank Tank Mean Joe Bean featured on New Brew Thursday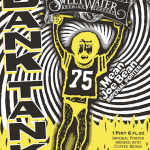 This week New Brew Thursday enjoy some SweetWater brew, specifically the Mean Joe Bean, an imperial porter from the Dank Tank series of beers from SweetWater.
On Master Pairings with Dr. Bill, John joins in for a selection of hors d'oeuvres and a vertically epic beer .. the Stone Brewing Co 11.11.11 Vertical Epic Ale. John learns about truffles, and morning cheese versus evening cheese.
__
Follow NBT online
New Brew Thursday – Twitter – twitter.com/newbrewthursday
New Brew Thursday – Facebook – facebook.com/newbrewthursday
Subscribe via iTunes – iTunes Link