New Brew Thursday : Shift : New Belgium Brewing Co.
This week we drink Shift from New Belgium, a pale lager that has historically been a brewery employee only after "Shift" beverage.
John wants to go New Belgium and build stuff, Matt's a liar, and Stephen is likely gonna get stabbed by Dr. Bill, and if you're playing a drinking game, don't use the word lager, or you'll die.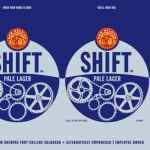 Also we want you to go to the site and buy merch! http://www.newbrewthursday.com/store/
On Master Pairings, Matt is back with Bill, to do an epic pairing with the first Barleywine ever produced commercially in the US, Old Foghorn, and Peanut Butter and Jelly! Also Bill gives you a lesson in Barleywine production.
After Master Pairings, we talk about how environmentally friendly New Belgium is and discuss their sustainability, and encourage people to commute in a more environmentally friendly way! Stephen walks to work. 😉
__
NBT Merchandise!
Yes, we FINALLY have some merchandise that we are selling. Support the show, and show your love of craft beer!
http://www.newbrewthursday.com/store
Follow NBT online :
New Brew Thursday – Website – Website
New Brew Thursday – Twitter – twitter.com/newbrewthursday
New Brew Thursday – Facebook – facebook.com/newbrewthursday
Subscribe via iTunes – iTunes Link