New Brew Thursday : Hopocalypse : Drakes Brewing Co
It's the Hopocalypse! We're drinking two amazing IPA's from Drake's Brewing Co, the Green label double IPA and the Black label triple IPA. Which Stephen immediately declares being as good or better then the Pliny equivalents.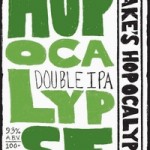 In the kitchen, Dr Bill brings Stephen in for a Master Pairings of Oysters on the half shell with O'Hara Dry Irish Stout. Stephen is afraid of the Oysters, and the fish mongers … and swears never to eat them again, regardless of how awesome the pairing was.
John gets to drink a new beer ( Black Label Hopocalypse ) as well as a new hop, Zythos .. so he is very excited. Matt is excused while we have a Pliny the Younger comparison discussion.
In the end we all agree that you need to get your hands on some Drake's!
Follow NBT online :
New Brew Thursday – Twitter – twitter.com/newbrewthursday
New Brew Thursday – Facebook – facebook.com/newbrewthursday
Subscribe via iTunes – iTunes Link