New Brew Thursday : Great American Beer Festival 2012 : On Location at Falling Rock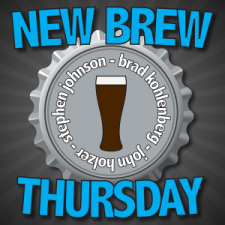 This week we're at GABF, and rather then wander the floor like we've done in years past, we are hanging at one of the main hubs of the week long festivities that surround the festival every year.
We drink a fresh hop beer from Rogue brewery, while we chat with Chris Black, owner of Falling Rock (@FallingRockTap), and PJ Hoberman (@hookedonwinter) from Denver off the wagon ( http://www.denveroffthewagon.com/ ) about all the crazy events that are happening throughout the week of GABF.
Since we're in GABF, rather then a Master Pairings, we join Dr. Bill for his epic annual rare beer tasting in the basement of Falling rock where he'll be pairing several hundred sweaty beer drinkers with 4,000 dollars worth of the rarest beers around! It's a crazy event and you're missing out if you don't check it out next year!
Part of the fun of this episode is finding brewers in the background of the episode. How many can you find? Let us know who you spot in the comments.
GABF sells out quick every year, and it's worth the effort to get yourself tickets, however if you can't there is no reason why you can come to Denver and enjoy the craziest beer week of your life! We'll see you there next year.
__
NBT Merchandise!
Yes, we FINALLY have some merchandise that we are selling. Support the show, and show your love of craft beer!
http://www.newbrewthursday.com/store
__
Support our Sponsors
Total Wine – http://www.totalwine.com
Beachwood BBQ – http://www.beachwoodbbq.com
The Full Pint – https://thefullpint.com
—
Follow NBT online :
New Brew Thursday – Website – Website
New Brew Thursday – Twitter – twitter.com/newbrewthursday
New Brew Thursday – Facebook – facebook.com/newbrewthursday
Subscribe via iTunes – iTunes Link