Karl Strauss Receives Gold for Red Trolley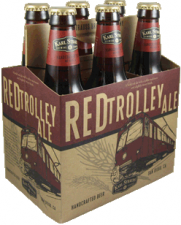 Karl Strauss Brewing Company was awarded the gold medal for their Red Trolley Ale at the Brewers Association World Beer Cup 2010.  The competition is one of the industry's most prestigious and recognized awards, with more than 3,401 entries from 642 breweries in 44 countries.

Red Trolley Ale beat out Sam Adam's Irish Red and Rock Bottom's Rag Top Red to take the gold in the Irish Red Ale category.  Originally brewed as the company's first holiday beer, Red Trolley is now Karl Strauss' best-selling draft brand.  Brewed with copious amounts of caramel malt, Red Trolley Ale has a rich toffee flavor with hints of dark fruit.
"We've always loved this beer," says Paul Segura, Brewmaster, "and it's great to see Red Trolley recognized by our peers."  The World Beer Cup winners were selected by an international panel of 179 beer judges from 27 countries.  The winners were announced during the World Beer Cup Gala Awards Dinner at the Sheraton Chicago Hotel & Towers in Chicago to coincide with the Craft Brewers Conference.
For more information about the World Beer Cup winners visit www.worldbeercup.org.  Share it, cheers.