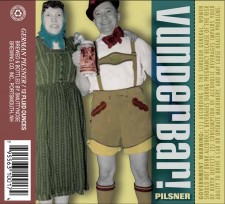 From Smuttynose Brewing – Made for taking a break from the Sturm und Drang of modern life, this elegantly refreshing pilsner was created with German malt balanced with the spicy tang of Czech Saaz hops. The bread and biscuit flavors of the grain are topped with the floral character of the Noble hop, which may just get you to shimmy into your favorite lederhosen, bust into a quick schuhplattler and loudly proclaim, "Das ist Vunderbar!"
Smuttynose Brewing – Smuttynose Vunderbar! Pilsner – 12 oz. bottle poured into a pint glass. 5.1% abv.
Appearance:  Pours a hazy yellow gold with a thin sudsy head that subsides to a tight white cap.
Aroma: Beautiful herbal and perfumy Euro hop, dry biscuity malt. Slight husk.
Taste: Mild spicy hops, breadiness.Twangy yet crisp snappy finish.
Mouthfeel:  Medium bodied average carbonation.
Overall:  A delicious classic! Fresh and tasty.