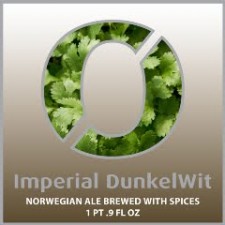 From Nøgne Ø– Imperial DunkelWit from Nøgne Ø is an attempt to combine the best of many brewing cultures. Indeed we hope to please the Belgian ale partisan, the dark ale enthusiast, as well as those who love big ales with this one product. That is a tough ambition. At least we had fun brewing it…… Ingredients: Grimstad water, wheat, malted barley, coriander, orange peel, hops and yeast. 24*P, 25 IBU
Nøgne Ø Imperial Dunkel Wit – 12 oz bottle poured into a goblet. 10% abv.
Appearance: Pours an iced tea brown with a foamy gathering of head.
Aroma: Lime lollipop.

Taste: Sage, breadcrust and wood.
Mouthfeel: Medium bodied with low to medium carbonation.
Overall: One of the best beers I tried in a long lineup of stuff I dried at 2010 DarkLordDay.