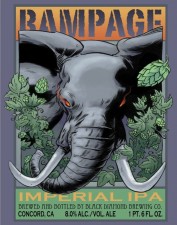 From Black Diamond Brewing – A massive brew that is enormously aromatic with huge hop flavors wonderfully structured with a great malt body. The flavor comes on with huge notes of citrus, pine and resin which last into the crisp dry finish.
Black Diamond Brewing – Black Diamond Rampage Double IPA – 22 oz. bottle poured into a pint glass. 9.5% abv. From Certified Market Monrovia, CA
Appearance:  Pours a vibrant, translucent copper with a thin white head.
Aroma: Grapefruit, dank bud and grain.
Taste: Grapefruit,tangerine followed by sturdy bitter pine, fairly dry malt.  Finishes with lingering bitterness.
Mouthfeel:  Medium bodied with average carbonation.
Overall:  Really balanced, hoppy and nice to look at.