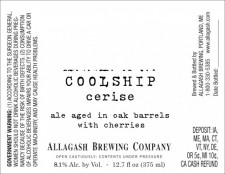 From Allagash – 2 year old spontaneous beer, aged on local Montmorency Cherries for 4 months, blended with a small portion of "young" spontaneous beer at bottling. Alc. 8.3% Vol
Allagash Brewing – Allagash Coolship Cerise – 12 oz. bottle poured into a goblet. 8.3% abv.
Appearance: Pours a light pink with a thin film of bubbles.
Aroma:  Swimming pool like chlorine and cherry. I get varying degrees of that "chlorine" smell in many krieks.
Taste:  Metallic and barn yardy funk and  sour cherry. For being 8.3% abv, it didn't seem that alcoholic.
Mouthfeel: Full bodied with low carbonation.
Overall:  I enjoyed the Balaton better than this in a side by side, very fun to try.
Bonus: Coolship Red > Coolship Resurgam > Coolship Balaton > Coolship Cerise