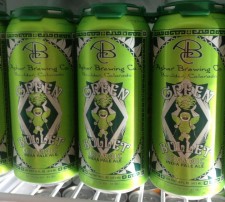 Asher Brewing of Boulder, CO updates us on their switch to cans for their Green Bullet Organic IPA. Cheers
There has been a lot going on at Asher in the last few months. Those of you who haven't been to the tasting room lately or following us on facebook prepare to be amazed…. The Green Bullet Organic IPA is now available in cans!!! For those of you in the greater Boulder area this means no more lugging glass growlers camping or realizing your fridge is bare of Asher beer. Yay!!
You can currently find these beautiful beacons of organic beer goodness at Liquormart, Hazels, Wholefoods and Alfalfa's in Boulder, Twin Peaks Liquor in Longmont. Please check them out and then send us your pics of cans in cool places! You can send them to me at jules@asherbrewing.com or post them to our Facebook page!!