Hops and Grain A Pale Mosaic
From Hops and Grain – A PALE MOSAIC is our American style IPA showcasing a fairly new hop variety called Mosaic. The beer begins with a base of German Pale Ale and Vienna malts, and is brewed for a light, crisp malt body. We use Oregon grown hops for bittering, targeting 50 IBU's, and follow that up with a hefty whirlpool addition. Finally we dry-hop with Mosaic, Simcoe and Nugget to deliver a beer that is clean and complex with notes of pine resin, grapefruit pith and blueberries.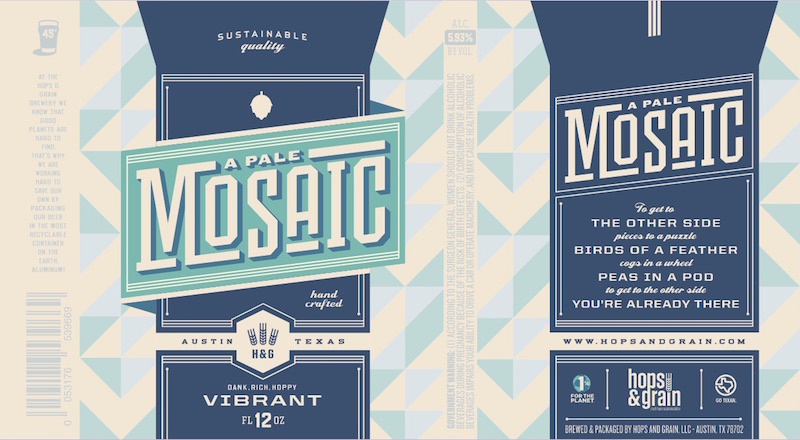 Hops and Grain – Hops and Grain A Pale Mosaic – 12 oz. can into a goblet. 5.93% abv.
Appearance:  Pours a hazy dark orange amber with a modest but lasting head.
Aroma:  Big bright citrus fruit, candied orange/turbinado sugar.
Taste:  Citrusy and earthy hops with quick bitterness. Very neutral malt. Finishes with a nice fruity twang.
Mouthfeel:  Medium bodied, juicy.
Overall: I am super impressed with this beer, and from memory, this is the best hoppy ale I've ever tried from the great state of Texas. Very flavorful and highly drinkable.