Odell Brewing Unveils Plans for Denver Taproom & Brewery
(Fort Collins, CO) – Odell Brewing announced today that it has selected Denver's River North Art District as the location for it's second taproom and brewery. Located on the corner of 30th & Larimer, the new facility will feature a 10-barrel pilot brewhouse.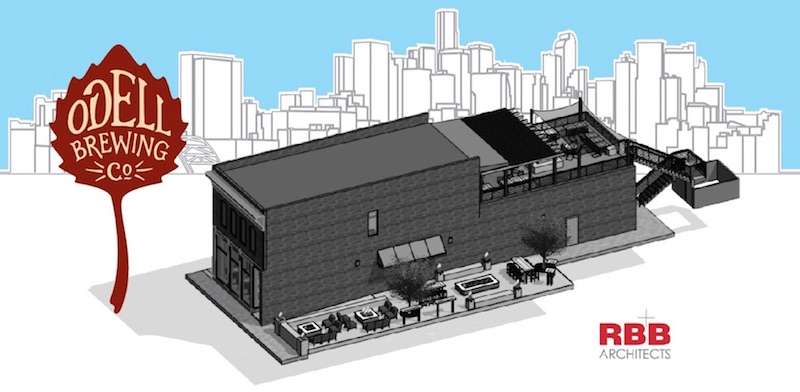 "For years we've explored the potential of a second taproom, and Denver has always been at the top of that list," said CEO, Wynne Odell. "It took a lot of patience, but we're thrilled to be joining the RiNo community which has a booming craft beer scene and a long history of celebrating independent, creative businesses. When we realized we were going from Larimer County to Larimer Street, it just felt right."
The two-story 4,000 square foot facility located at 2945 Larimer Street was originally built in 1917 and is adjacent to the recently announced Shake Shack location. Construction and development begins this Summer and will include two bars with 15 Odell tap handles, an outdoor patio with two fire pits, a live music/performance space, and a partially-covered rooftop. The pilot brewhouse will be focused on experimental beers only available in the taproom.
"From the very beginning, Odell Brewing has placed a lot of importance on our pilot system. It's been our proving ground, where we push ourselves to create new and innovative beers," said COO, Brendan McGivney. "The RiNo brewery will be solely focused on that exploration, and we're excited to share that with Denver, one of the most educated and passionate craft beer communities in the world."
A grand opening is expected in late 2017. For additional questions/comments, please contact Alex Kayne at [email protected]
# # #
About Odell Brewing – Odell Brewing is an independent, family and employee owned regional craft brewery. Since 1989, the culture of family and collaboration has thrived, fostering a brewery full of beer-centric people. It is this passion for beer that inspires Odell Brewing to create quality, hand-crafted and innovative brews. Odell Brewing is committed to providing exceptional service to its customers while making positive contributions to their co-workers and community through its outreach and charitable giving programs. Odell Brewing was named the "Best Medium Sized Company to Work For" in Colorado in 2015 and is the 27th largest craft brewery in the United States.