Job Openings at The Full Pint (Jan 2017)
Going on our 10th year serving our large, loyal reader base in addition to the entire craft beer industry, The Full Pint has grown into quite the thirsty monster.  With the help of our founders and team mates, we have been able to build a trusted platform for craft brewers to share their news and events, and a place for talented beer writers to tell their stories and share their unique views.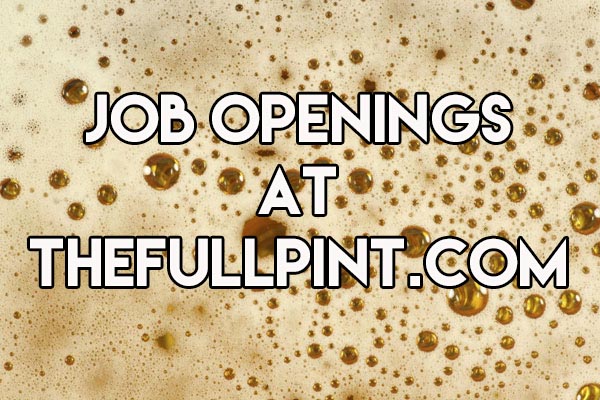 We are looking for some help getting us to the next level, to ensure The Full Pint sticks around for another 10 years. Below are some creative and technical freelance opportunities that we would like to offer in the next 90 days.  It should go without saying, but worth mentioning that these are all paid opportunities.  Please respond to these opportunities at [email protected] with the job description in the title.  If you write us a novel for an email, we will likely fall asleep and delete the email.
IF YOU BUG US OR DON'T FOLLOW THESE INSTRUCTIONS, YOU WILL BE IMMEDIATELY DISQUALIFIED.
Logo / Branding Designer – We are looking to spruce up our duds if you will.  We have been using our iconic orange banner style logo, along with our beautiful mugs for nearly ten years, and are looking for a modern refresh. Looking for a freelance engagement that will professionally present a fresh look/feel for TheFullPint.com and will consult on how to best implement. Applicants should ideally have a portfolio of successful projects to present and be up to date on the latest digital graphics technologies.
Linux/Unix Mid Level Administrator – TheFullPint.com runs atop of industry standard WordPress with Apache web server. We are looking for a mid level system administrator who can optimize and stay on call in the event of an issue or outage.  Applicants should ideally have 5+ years of experience in Linux system administration with a focus in LAMP optimization and security.
Remote Podcast Proucer/Engineer/Editor – TheFullPint.com is in the early stages of producing a weekly podcast, published on iTunes and Google Play. We are looking for a freelance Podcast Engineer/Editor/Producer who can make chicken salad out of chicken sh*t. This person would consult on proper equipment for podcast hosts, and will be able to perform their duties remotely. Applicant will ideally be able to provide engineering credits and podcast examples.
Apparel Designer – We are looking for a wizard who can design some TFP merchandise that people will actually wear, and want to wear outside of the beer festival scene. Looking for shirt, zip up and glassware designs. Applicants should also be able to consult on entire process of design, creation, producing and selling..
Beer Week Correspondents  – Nearly every major city holds a 10 day long celebration known as "Beer Week." We are looking for someone to attend some flagship beer week events in your city, take pictures and provide a thoughtful writeup. Applicants should be somewhere between beer newbie and grizzled veteran so we don't get a bright eyed or jaded view.
Beertographer – We are looking to purchase good digital photographs of brewers, breweries, festivals and other fun beer related stuff.  If you have a portfolio we can look at and shop, please respond.
Are you interested in any of these? Do you have a friend looking for extra cash? Please share this post on Facebook and Twitter