Green Flash Brewing Debuts Experimental Beer Program – Genius Lab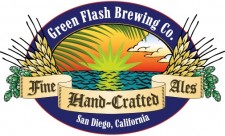 San Diego, CA – Green Flash Brewing's New Experimental Pilot-program Sparks Ingenuity. Saison Tart Is 1st Beer To Release In Ongoing Small-batch Series
A Green Flash beer development project, making its San Diego debut in June 2013. The program was developed to spark behind-the-scenes collaboration, innovation and fresh experimentation to create totally new small-batch Green Flash releases. Each beer in the Genius Lab is developed by members of the Green Flash brewery team under the expert guidance of Brewmaster, Chuck Silva. The Lab offers brewers an opportunity to experience the complete process from creative beer-style selection, recipe development, and start-to-finish brewing.
Genius Lab also serves as an opportunity to consistently introduce new and experimental beers to the consumer, sparking conversation with each lab introduction. The timing of when future Genius Lab beers will be released is not yet determined – however there are several planned in 2013. This intentional decision is part of the spontaneous nature of the series. Each beer is released "when it is ready", and will be available on draft for a limited time in the Green Flash Tasting Room and other select locations, with an emphasis on craft beer destinations in Southern California. Saison Tart is the 1st phenomenal release from the Genius Lab – making its Tasting Room debut on June 11th 2013.
WHEN/WHERE:
Tuesday June 11, 2013 from 3pm – 9pm
Green Flash Tasting Room – 6550 Mira Mesa Blvd San Diego, CA 92121
About Saison Tart
Saison Tart was crafted with techniques typically used when brewing Berliner Weiss. A subtle tartness makes this Genius Lab offering a fun twist on the traditional Saison style. This pale, straw hued beer presents a refined fruitiness with a fresh, herbal, grassy bouquet. These verdant aromas translate to flavors that mingle with the beer's bright citrus character and light malty sweetness. A refreshing beer that is minimally hopped (only 3 IBU), Saison Tart is a delightful summer quencher at 3.6% ABV
About Green Flash Brewing Co.
Green Flash Brewing Co. is located in San Diego, California, and was founded in 2002 by Mike and Lisa Hinkley. Brewmaster, Chuck Silva, leads brewing operations. Green Flash is an award-winning brewer of fine, hand-crafted ales, and specializes in brewing assertive and distinctive beers, such as the nationally acclaimed West Coast I.P.A.: an award-winning beer whose wide acceptance has helped define a category. Green Flash brews ten styles of beer regularly, on draught and in bottles as well as a growing lineup of seasonal and special offerings, including several barrel-aged beers, throughout the year.
www.greenflashbrew.com – @GreenFlashBeer – facebook