Review of Fort Myers Florida Craft Beer Scene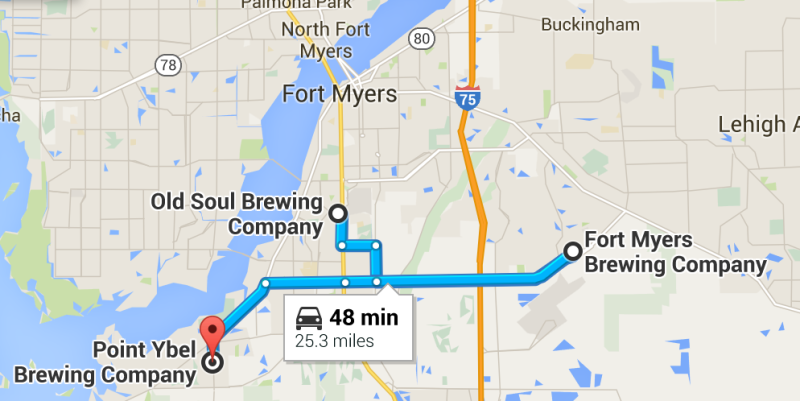 This past weekend, I went to Fort Myers Florida to visit family.  Whenever I go out of town, I like to make sure the people I'm visiting know my priority is family, but that if time permits, that I am able to check out the local, and in most cases, emerging craft beer scene. I say emerging as not every city is as fortunate as San Diego, Philadelphia or Chicago, with a rich culture of excellent craft beer options.
I have visited Fort Myers a few times before and have only had time to pick up some widely available craft beer at the local Total Wine, but this trip, I had a few days to see what Fort Myers had to offer in terms of craft beer.  Before my arrival, I took a quick look on RateBeer and BeerAdvocate to see what was there to check out. Quick searches turned up Fort Myers Brewing and Point Ybel Brewing. We reached out to some people we knew, and Old Soul Brewing was added to our short tour.
While I am spoiled with some of the best craft beer in the country here in Southern California, I went into this adventure not expecting cutting edge examples of West Coast beer, and not looking for the crazy barrel aged, high alcohol beers the kids seek out these days.
First stop: Fort Myers Brewing (link to Facebook page)
Our first stop was Fort Myers Brewing. Like many young breweries, this was located in an industrial park.  We went at about 4PM, and it wasn't too crowded.  The tasting room was visibly under construction, looking like it would eventually double capacity.  As it stood, we were in a construction zone that didn't feel homey or inviting.  We went right to the counter and were greeted by a nice young lady. My brother picked Gateway Gold and I picked High 5 IPA. Wait a second, doesn't Terrapin Beer Co. make a High Five IPA? Anyway, I am a sucker for IPAs, and the tap list board mentioned many Citra and Amarillo, hops that I love. How could I go wrong right?  Well both of our beers were poured into clear plastic cups. Strike one.  My brother looked at me after his first sip and asked if cream ales were supposed to be flat, to which I replied no. It wasn't exactly flat, but it was mildly carbonated. Strike two.  I took a whiff of my IPA. And then I took another whiff of my IPA. And then another.  When you mention Citra and Amarillo hops, you would think you would get the great aromatics you've come to expect. None to be found unfortunately. Ok, so no late hop additions or dry hopping that I could gather. Maybe it was the plastic cups shape hindering the aromatic experience.  Then taking a sip, I got bitterness and what had the bitterness of aspirin. I love hop bitterness, but this was medicinal and metallic.  Strike three. We both finished half of our cups, cashed out and bolted.
Second stop: Old Soul Brewing (link to Facebook page)
We felt we couldn't do worse that what we had just experienced at Fort Myers Brewing.  We rolled over to another industrial park and checked out Old Soul Brewing.  The decor was interesting, and had a nice bar set up as well as a living room/lounge type setup in the middle for chilling out.  At around 5PM, there weren't too many people there, and we were greeted by a nice male bartender.  We both wanted to start out with their cream ale.  I was ok with it, however my brother wasn't not impressed. While I've had way cleaner representations of this style, my brother found the husky grain profile to be downright skunky and off-putting. After a post on our Instagram, the owner and brewer bolted out from the back to say hi to us, which was not our intention, but was nice none the less.  We said our hellos, let them know about The Full Pint and talked about some California breweries.  Hoping to find a gem on their beer menu, I sampled all their other offerings.  Their double IPA had potential but was a mess, surprisingly the Brown Ale with Chai tea was the best of the lot. It kind of tasted like an oatmeal cookie.  All and all, I like what they are attempting to do, and I'm sure they can pick up steam and dial in some of those recipes.
Final stop: Point Ybel Brewing (link to website)
We didn't visit this right after our first two stops, but rather we took a day off in between visits.  Unlike the first two stops, this brewery was in a strip mall location.  We went in with great caution based on our experiences with the first two stops, and our expectations were rather low.  When we went in, it seemed almost like an established bar. There were a decent amount of people seated, and a very nice lady working behind the bar.  While my brother isn't used to this, I quickly asked for splash sized samples to see if there was anything I could enjoy, before ordering an entire pour.  Their cream ale passed his test, and their IPA passed mine. In fact, I was blown away as to how great their IPA tasted and smelled.  I wound up doing a flight that consisted of their Pale Ale, IPA, Double IPA and Wild Ale offering.  The wild ale had promise but was a bit young and underwhelming in terms of tart or funky character.  All and all, I was happy with the beer and happy my brother was satisfied as well. They did crowler and growler fills, that I would have happily purchased if I had more time in town.  I look forward to visiting this place again.
Verdict
For many people, craft beer is a new thing, and even viewed as a fad.  If someone's first experience with craft beer is a bad one, they might not give this sub-genre of tasty beverages another chance.  I hope that the first two breweries take note of what today's standards are and become better examples of what good, local, fresh craft beer should be.