CBC's Barleywine Fest 2019
January 26, 2019 @ 4:00 pm

-

11:00 pm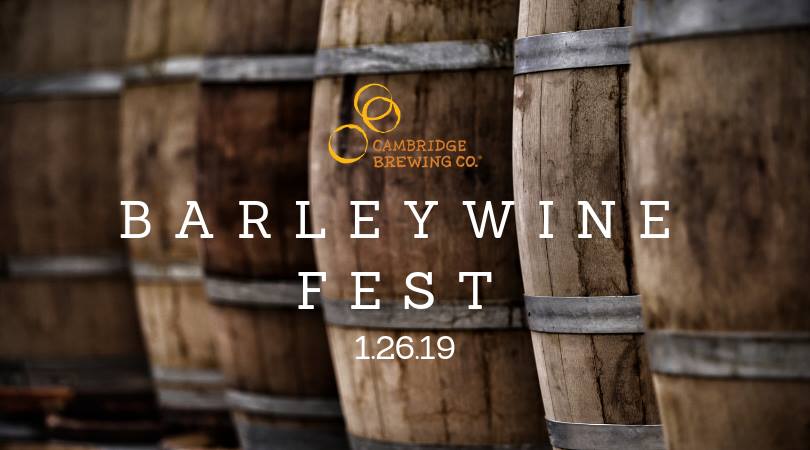 Each year, the Cambridge Brewing Company team anxiously await one of the best days at the brew pub: Barleywine Fest! Join us as we celebrate this year's Fest on Saturday, January 26th.
Not familiar with our annual Barleywine Fest? Brewmaster Will puts together a list of vintage CBC barleywines, available in flights and full pours, while Chef Dave features a special barleywine-friendly menu.
The Beers
2013 Arquebus, Silver Oak cabernet barrel finish, 14%
Big peach and grape nose, aggressive oak character, herbal wildflower honey. Fresh vinous red and white grape finish.
2014 Arquebus, merlot barrel finish, 14%
Semillon grape and honeyed nose, immaculate balanced oak character. Bright and smooth finish.
2015 Arquebus, chardonnay barrel finish, 14%
Perfumed muscat grape and honeyed nose, balanced new oak character. Soft and velvety finish.
2016 Arquebus, French oak Tokaji barrel finish, 12%
Peach and apricot fruit, loads of wildflower honey, sugarcane, and concentrated Semillon dessert wine character.
2017 Arquebus, Stags Leap Napa Valley chardonnay finish, 12%
Honey-drenched spiced pears, apricot nectar, young sauternes, balanced acidity.
2018 Arquebus, Stags Leap Napa Valley chardonnay finish, 14%
Notes of peach/apricot/wildflower honey, and sweet Semillon. Big toasted oak, Sauternes-like finish.
2017 Old Butternuts, River Drive Bourbon barrel-aged, 9.1%
Classic English strong ale, melon-like butternut squash, hint of tartness, malts tempered by fresh bourbon character.
2009 Blunderbuss, Port barrel finish, 12.75%
100% Vintage Port wine barrels. Caramel, herbal hops, fruit, red wine, toasted coconut, vanilla, oak.
2011 Blunderbuss, Tawny Port and Oloroso Sherry finish, 13%
Burnt sugar, red wine and sherry, toasted walnuts, caramel and hints of smoky oak.
2012 Blunderbuss, dryhopped, oak aged, and blended, 12.75%
Citrus, florals, and pine needles, full malty palate, hints of toffee, charred oak, elusive hints of spirit.
2013 Blunderbuss, Buffalo Trace rye barrel finish, 12.75%
Huge malt, turbinado, coconut and toast, leather, charred oak, spicy lingering spirit.
2014 Blunderbuss, WL Weller barrel-aged, 12.75%
Toffee, toasted marshmallow, golden raisins, balanced new oak and softly wheated spirit, firm hop bitterness.
2015 Blunderbuss, Heaven Hill barrel finish, 12.75%
Sweet cereal grain, figs and caramelized raisin, balanced oak and mellow spirit notes, firm hop bitterness.
2016 Blunderbuss, River Drive rye barrel finish, 12.75%
Bright fresh spirit and plenty of charred oak to balance sweet caramel malt. Dry and quaffable but with some heat.
2017 Blunderbuss, River Drive rye barrel finish, 13%
Warming spicy rye and aggressive oak, toast and toffee and caramel malt. Quite bold but surprisingly drinkable.
New Release! 2018 Blunderbuss, Four Roses Small Batch barrel finish, 12.5% Winter spice and manuka honey, toasty oak, crème anglaise and thick fruit. Marshmallow and vanilla notes accent a full, silky body and long finish.
Details
Date:

January 26, 2019

Time:

4:00 pm - 11:00 pm

Event Category:

Website:
Organizer
Venue
1 Kendall Sq




Cambridge

,

MA

02139

United States

+ Google Map