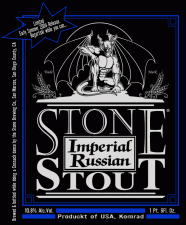 From TFP – We were lucky enough to attend a special 1o year vertical of Stone Imperial Russian Stout at Stone World Bistro and Gardens at the beginning of November, to celebrate San Diego Beer Week.  It was quite a journey trying all of the years of Stone IRS, and seeing what father time did to this thick, black nectar.  I would encourage anyone who likes this beer to age a few bottles for experimentation, but to know that this beer is best at no older than 3 years (in our opinion of course!)
Stone Brewing Co. – Stone Imperial Russian Stout – 10.8% abv. Poured at Stone World Bistro and Gardens.
Appearance: Poured a midnight red with a khaki line around the top.
Aroma: Leather, roast, chocolate and smoked meat.

Taste: Burnt roast malt, wood notes, slight cardboard, and a oh so slight bitter hop note.
Mouthfeel: Medium bodied and respectable level of carbonation.
Overall: Fun to drink, with lots to discover.