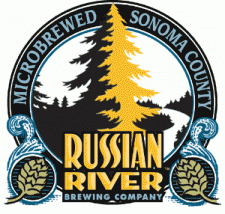 From Russian River – An abundance of hops and malt are added to our IPA to create and preserve its distinctive flavors. Not only do we use generous portions of hops in the kettle, but we also dry hop this ale for one week after fermentation. The dry hopping process adds to this beer's floral and citrus aroma. This is truly a tasty adult beverage!  – Gold Medal, 2000 World Beer Cup (India Pale Ale Category)
Russian River Brewing – Russian River IPA  6.5% abv. – On tap at 38 Degrees Alhambra,CA.
Appearance: Pours an amber gold with a fluffy white head.
Aroma: Modest sweet grain and nice citrus hop aroma.
Taste: Bitter hops, slight juicy citrusy hops, light caramel sweetness mixed with biscuit-like malt. Finishes spicy and bitter.
Mouthfeel: Medium bodied with medium carbonation.
Overall: Really enjoyable and spicy. It's not as magical as Blind Pig, but it's well above average.