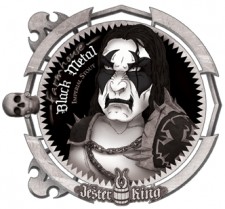 From Jester King – Farmhouse edition of our classic Imperial Stout. Pitch black in color with huge notes of chocolate, roasted and black malts coupled with earthy, peppery and floral farmhouse esters.
Jester King Craft Brewery – Jester King Farmhouse Black Metal Imperial Stout – 750 ml. bottle poured into a goblet. 9% abv.
Appearance:  Pours a dark brown with a subsided tan head.
Aroma: Roasted dark malt, coffee, mineral.
Taste:  Burnt roast, dark chocolate, black coffee, peppery hops, finishes burnt roasty.
Mouthfeel:  Rough lively carb. Full bodied.
Overall:  I was amazed at how much changing the yeast changed this particular beer.  I think I like the original better, but by no means is this inferior.