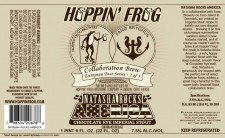 From Hoppin' Frog – In a collaboration with Fanø Brewery on Fano Island in Denmark, we created an Imperial Stout recipe to satisfy our own deepest desires. Brewing it on this picturesque summertime vacation island is how Natasha started, and of course we couldn't wait to brew it at Hoppin' Frog! The result is Natasha Rocks America – a rich, hoppy Imperial Stout with the deep-roasted, smooth flavor of Chocolate Rye malt. And, Natasha is generously dry-hopped with the perfect mix of select American hops, adding a great hop character to this super-tasty Imperial Stout collaboration brew.
Hoppin' Frog Brewery – Hoppin Frog / Fanø Natasha Røcks America Chocolate Rye Imperial Stout – 22 oz. bottle poured into a goblet. 7.5% abv.
Appearance:  Pours dark brown with a thin tam head.
Aroma:  Dark chocolate big herbal hops.
Taste: Spicy dry toasted malt. Black coffee, chocolate.
Mouthfeel:  Thin side for impy. Moderate carbonation. A little silky.
Overall:  A very well made, flavorful beer.  For an Imperial Stout, I like it a little bigger, but names and styles aside, its a wonderful offering.