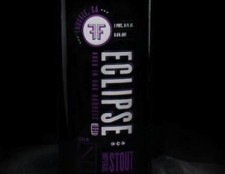 From FiftyFifty – The first bottling of the 2008 vintage came from one barrel… A Pappy Van Winkle barrel that held Bourbon for 23 years. We have 7 more of these barrels ranging in age from 17 to 23 years.
FiftyFifty Brewing – FiftyFifty Eclipse Imperial Stout – Pappy Van Winkle Vintage 2008 – 22 oz. bottle poured into a goblet. 10% abv.
Appearance: Pours dark brown, like motor oil, with no head.
Aroma:  Huge dark chocolate coconut egg. Spiced rum.
Taste: Dark chocolate ,wood bourbon, coconut.
Mouthfeel: Thin compared to a recent vintage, modest bubbles.
Overall: Probably one of my favorite samples of Eclipse to date.