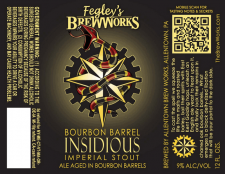 From Fegley's Brew Works –  We've taken our Insidious Imperial Stout and kept it hostage for nearly a year in the cellar. Aged in Kentucky Bourbon barrels, this Imperial Stout has a seductive bourbon aroma with the flavors of chocolate and vanilla, finishing with a warming bourbon finish. Everything you love about Insidious is enhanced in this Bourbon Barrel rendition.
Fegley's Brew Works – Fegley's Bourbon Barrel Insidious Imperial Stout – 12 oz. bottle poured into a goblet. 9.0% abv.
Appearance:  Pours dark brown with a tan ring around the edges.
Aroma:  Bourbon, raisin and dark chocolate.
Taste:  Dark fruit, bourbon, dark chocolate, char,wood. Very vinous.
Mouthfeel: Full bodied, silky texture. Modest carb.
Overall: A bit on the sweet and fruity side for my Bourbon Barrel Impy. With that said, this should age well and is best shared amongst a few people.