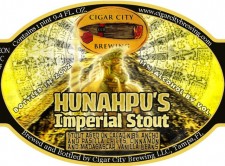 From Dan – Cigar City Hunahpu's is in my top 3 favorite beers of all time. We had the great fortune of getting to sip on multiple pours of Hunahpu's Imperial Stout aged in Apple Brandy Barrels at Stone Brewing's 16th Anniversary Rare Beer Tent. I can't think of a better beer to write about on Stout day than this beer.  Cheers!
Cigar City Brewing – Cigar City Hunahpu's Imperial Stout Aged in Apple Brandy Barrels – On tap at Stone 16th Anniversary – 11% abv.
Appearance:  Pours dark brown with a thin brown ring. An iodine like coating is left behind on the glass.
Aroma:  Sweet brandy. Chocolate, coconut, pepper skin.
Taste: Strong apple brandy, cinnamon spice, dark chocolate, barrel char.
Mouthfeel:  Thick, spicy carbonation.
Overall:  A fantastic treat, even on a warm summer day in this case.  I had it in Denver and it was amazing then too.  As the old XX Meme goes: "I don't usually need barrel treated Hunahpu, but when I do, it's Apple Brandy Barrel Aged Hunahpu."