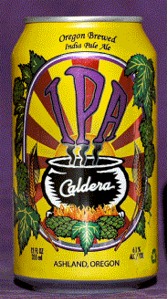 From Caldera Brewing –  An American-style India Pale Ale brewed with plenty of body and an assertive hop profile. Grist: Premium Two Row, Munich, Crystal Hops: Crystal, Galena, Centennial Original gravity: 1.057
Caldera Brewing – Caldera IPA – 12 oz. can poured into a pint glass. 6.1% abv. Purchased at Beverages and More – Pasadena,CA.
Appearance: Pours an bright amber gold with a 1/4 inch of sudsy head. Leaves tons of lacing on the glass.

Aroma: Huge amounts of grapefruit, orange, floral scents, a touch of pine and sweet malt.
Taste: Juicy grapefruit, fresh squeezed orange juice, pine, sweet and spicy malt. Ends with a big bitter hops presence.
Mouthfeel: Juicy and medium bodied.
Overall: I was quite pleased with this beer.  It has everything I want in an IPA.