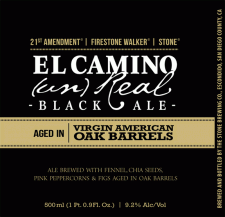 From Dan – Here's a beer you'll get to try if you are going to Stone Oakquinox 2012. This was previously only offered to Team Stone members, but was listed on this insane list  Hope to see you there! From Stone – Our collaboration with 21st Amendment and Firestone Walker aged in Virgin American Oak Barrels.
Stone Brewing Co. – 21st Amendment / Firestone Walker / Stone El Camino (Un)Real Black Ale Aged in American Oak Barrels – 500 ml. bottle poured into a goblet. 9.2% abv.
Appearance: Pours a viscous jet black with a thin tan ring.
Aroma:  Sweet chocolatey malts, tobacco, vanilla, fig, dates.
Taste: Figs, chewy sweet dark malt, woody barrel, vanilla, charred barrel, burnt roast, pepper.
Mouthfeel: Sticky. Full bodied.
Overall:  I thought this beer needed time to jive when I had it fresh. Aging in oak barrels did the beer wonders. Think of a well aged Firestone Walker Anniversary Ale with some peppercorns and figgy goodness, and that's what you have.