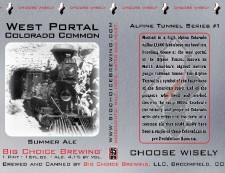 Big Choice Brewing will be utilizing Mobile Canning once again to can their second beer on Friday!  Called West Portal Colorado Common Summer Ale, it is light, refreshing, with a tinge of bitterness to it.
This is the first in an ongoing Alpine Tunnel series that takes in to consideration the love of Colorado History by telling tall tales of the people of Colorado and their love for beer back in the day!
Look for the 16oz 4 packs in stores at the end of June!
Choose Wisely~
Follow Big Choice Brewing on Twitter